Skyline High School
Class Of 1970
In Memory
Cathy Barnes (McGill) VIEW PROFILE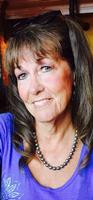 Catherine Barnes McGill 'Cath'
November 13, 1951 - January 26, 2022
On the dawn of January 26th, 2022, the sun set for the very last time for Catherine Barnes McGill. And, while the sun may have set, we know tomorrow it will rise brighter and stronger and the warmth of your soul will continue to permeate and radiate warmth, love, and compassion, for all of us who knew you so well. Cath was born in Salt Lake City to Clyde and Bessie Barnes where she grew up in the Canyon Rim area of SLC. Cath attended Skyline High School and graduated in 1970. Cath completed a Cosmetologist licensure track after high school and spent most of her life cutting, perming, and styling the hair of several family members, neighbors, and friends throughout her life. She also spent 22 years working at several schools in Jordan School District as an administrative assistant. Her time was limited here on this earth and she passed away due to complications with early-onset Alzheimer's.
During her youth she took pride in traveling and watching her dad play drums in the Army Band, enjoyed dancing (tap dance), softball, and making and stitching her own clothes (which would later blossom into a love for sewing). Cath was an integral part of the Pep Club at Skyline High School and met the love of her life Paul McGill, during her early adolescent years as they lived just a few blocks from one another. Paul used to take bike rides over to Cath's house (and we understand car rides before he had his license) and those rides eventually turned into a nearly 50 year marriage (August 25th, 1972 – January 26, 2022) and produced three beautiful children spanning living spaces in Tempe and Mesa, AZ, Sandy, and eventually Midvale, UT.
Cath is survived by her loving husband, Paul, who spent the last decade attending to and caring for her every need while she battled the ills of Alzheimer's. God bless Paul (our Father) for the love, care, and compassion he showed to her in a challenging time of continual cognitive and physical decline. You can't understand the role, dedication, and contributions of an Alzheimer's care giver until you've walked a mile in their shoes.
Cath was also survived by her three children; Brian McGill (Jody) Sandy, UT, Stephanie Kearl (Dusty) Sandy, UT, and Mandy Huffman (Mark), Midvale, UT, who were the love and joy of her life. She is also survived by seven beautiful grandchildren; Miken [19] and Brayden [15] (Brian and Jody), Cailtyn [22], Trent [20], and Evan [17] (Dusty and Steph), and Irelyn [17] and Kennedy [15] (Mandy and Mark). Cath is also survived by her siblings (Brent, Jeff, and Linda), cousins, and several nieces and nephews. Cath (known to her grandkids as "Nammie") dedicated her time, love, energy, and creative talents with her children and grandchildren. Simply put, Cath loved being a mom and a "Nammie," and it showed in her radiant smile, glow, and arms embraced in hugs every moment she had with them. We would also like to give a warm extended thanks to the team from Quality Hospice and Home Care, and to the many private care givers who gave so much of their energy, time, and compassionate care for our mom.
Cath had a fond love of sun bathing next to her pool on Plata Avenue in Mesa, AZ, and on Free Land Drive at the Homestead Village. She thoroughly enjoyed rock music (AC/DC, Metallica, Staind, and Nickelback, to name a few), utilizing her creative and mechanically inclined talents with craft making, quilting, and wall knick-knacks that adorned her walls in her homes in both Mesa, AZ, and on Petunia Way in Sandy, UT. She enjoyed playing sports with her son Brian and watching him thrive in skateboarding, soccer, baseball, football, and tennis, recording video at Stephanie and Mandy's dance recitals, cheering at Alta for Steph, and Mandy's Jordan SBO functions. She also enjoyed coloring and other outdoor activities with her grandkids. She especially loved taking the grandkids on walks to Wheeler Farm to watch the animals.
Mom was known as one of the biggest cheerleaders on the Alta sidelines for both football (Brian) and cheer (Steph) and those cheers will be forever heard and felt by all of those who came to know you. Cath also enjoyed traveling as she and our dad were able to experience England, Scotland, Wales, Ireland, and Italy, several times over before she was diagnosed with Dementia and later Alzheimer's, to which put future travel retirement plans on hold.
Cath was a member of the Church of Jesus Christ of Latter-Day-Saints, and was active up until she could no longer attend while she battled Alzheimer's Disease. A big thanks to all of her Ward Family and neighborhood friends who drove her to church and watched over her on Sundays. Her active faith gave her comfort and positivity in a world with many burdens and challenges. We know you've been able to return home to be with your Heavenly Father, and your mom and dad, whom we know welcomed you with open arms at the gates of Heaven.
Words to describe our mom: beautiful (hottie), loving, caring, compassionate, comforting, sacrifice, faithful, creative, crafty, artistic, athletic, quilter, word puzzles, baker (cake maker extraordinaire), exercise and fitness, sun worshipper, cool, engaged, and involved. She was amazingly gorgeous in every possible way, which captured the eyes and heart of our father, Paul, during their formative middle school years.
We will have a celebration of life on Monday, February 7th, from 6:00- 8:00 pm at Starks Funeral Parlor, 3651 South 900 East, Salt Lake City, open to any and all family, friends, and visitors. An intimate service will be by invitation only for Cath's immediate family members on Tuesday, February 8th. She will be laid to rest at Mt. Calvary Catholic Cemetery, 4th Avenue and "T" Street, Salt Lake City.
In honoring our mom (Nammie) and in lieu of flowers, please provide donations to the Autism Council of Utah @ https://www.autismcouncilofutah.org, (c/o Brayden McGill – Brian and Jody's son) or to the Alzheimer's Association Utah Chapter @ https://www.alz.org/utah?set=1
In the words of M. Shadows from the song, "So Far Away."
"I love you, you were ready
The pain is strong and urges rise
But I'll see you, when He lets me
Your pain is gone, your hands untied"
Click here to see Cathy's last Profile entry.