Skyline High School
Class Of 1970
Troop 334 - Stag Patrol Reunion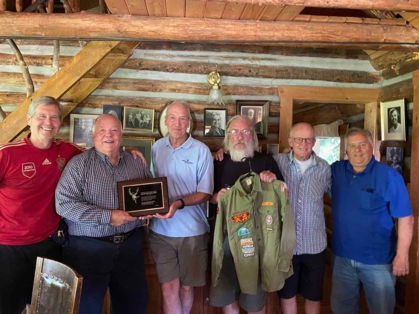 The Stag Patrol Rides Again; A Celebration of Friendship and Gratitude
Recently 6 Skyline Eagles reunited after 55 years of separation to celebrate their friendship and to express gratitude to the special adults who provided guidance and wisdom during their early years. The Stag Patrol of Scout Troop 334 consisting of Owen Ashton, David Jackson, Dan Judd, Brent Knell, John Muir, and Kyle Taft assembled in Brighton to present a plaque of appreciation to the family of their Scoutmaster Dick Weggeland, who died in 1987 in a tragic accident. Dick was a phenomenal Scoutmaster who had a profound effect on the boys he led and taught. The plaque was placed in the family cabin to remind future generations of his legacy.
But Dick was certainly not the only influential leader for this group. All members of the Stag Patrol had previously been Cub Scouts together in Den 3. In recognition of her patience and dedication their Den Mother, Jean Taft, received a home visit from four of "her boys" who presented her a bouquet of flowers as a symbol of thanks.
The Stag Patrol boys were incredibly fortunate to live near the mouth of Neff's Canyon, in the towering presence of Mt. Olympus. That wild area was the scene of many great adventures, campouts, and hikes. To commemorate that influence, on July 2, 2022, four of the original patrol all in their 70s, led by Kyle Taft and including Dave Jackson, Dan Judd, and Owen Ashton climbed up the face of Mt Olympus by a special route that took them to the top of the peak.
Though wonderful, the Stag Patrol experience was not unique – many of the young people who attended Skyline High School were supported and encouraged by adults such as teachers, coaches, church leaders, Scout leaders, and others. This might be a good time to consider who made a difference in your life and resolve to find a way to express gratitude for their generosity, kindness, and occasional discipline. What we brought to Skyline was a result of their dedication. What future generations bring to Skyline will also depend on you.
Submitted by Dave Jackson
A Huge Thanks to All Who Attended and Helped Make
50 (+1) A Success!!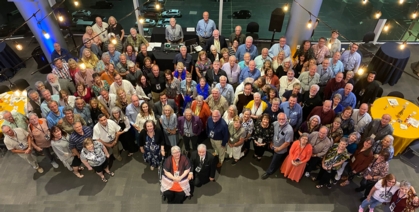 It was great to spend quality time with so many.
Here's to the Class of 1970!!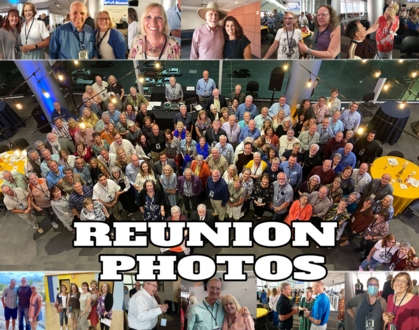 CLICK HERE TO VIEW THE COLLECTION
AND PLEASE ADD YOUR OWN PHOTOS!