Skyline High School
Class Of 1970
In Memory
Janet Kiddle (Holman)
Thank you Steve Hanson for the notification.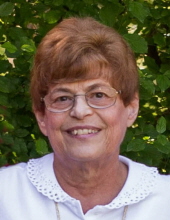 Obituary
Beloved mother, grandmother, wife, and friend. Born October 24th, 1951 in Salt Lake City, Utah. Surrounded by loved ones, left us unexpectedly on December 26th, 2019 in Murray, Utah.

Janet was the daughter of Myron Gerald and Joyce Farnsworth Kiddle. She grew up in Millcreek Utah. As a child, she loved spending time with her grandmother. She also enjoyed growing up with her neighbors, Bob, Vivian and their daughter Sally Clayton, who were like her second family. She participated in the local Girl Scout Troop and fondly remembers visiting family in Canada on vacation.

She met the love of her life, Roy David Holman, a.k.a. the "head skating bum" at the Classic Roller Skating rink. They married in the Jordan River Temple on August 28th, 1973. Together they had three children and six grandchildren. Throughout their life, they enjoyed camping with their kids and taking trips to Disneyland as a family. The greatest cheerleader, Janet always supported her children and grandchildren in all their extracurricular activities. She could often be found at sporting events, dance recitals, and school activities. More often than not, on the front row. She could always be counted on for last minute projects, picking up sick kids from school, or anything her kids or grandkids needed.

Janet enjoyed traveling with her husband, Roy. Some of her favorite adventures included their trips to Washington D.C., Hawaii, and Branson, Missouri. They also enjoyed traveling around to see the Bar-J-Wranglers perform.

Janet attended Skyline Highschool, graduating in 1970, and later attended Utah State University. She grew up in the Millcreek area, and shortly after marrying, her and Roy purchased a home in Murray. They both loved this home, and still live there today. She was so generous with her time and energy, and enjoyed giving service to those she loved. Janet met several friends in her neighborhood, which became extended family. She worked for Murray City for about 10 years until she had the opportunity to stay home and raise her young children. Upon returning to work, she spent most of her career at the University of Utah, with the Neuroradiology Department, as an administrative assistant for the School of Medicine, until finally retiring in 2012. She was a life-long member of the Church of Jesus Christ of Latter-Day Saints.

Janet enjoyed a variety of hobbies throughout her life, including reading, word-searches, ceramics, knitting, crocheting, sewing, baking, candy-making and gardening. In more recent years, she liked to relax with Roy and Heidi while watching NCIS, Hawaii 5-0, Magnum PI, and Blue Bloods. Her most beloved past-time was spending time with her children and grandchildren. Playing with her grandchildren was her greatest joy.

Survived by her loving husband, Roy; her three children and their spouses, Carrie and Chad Stoehr, Scott and Candice Holman, and Heidi Holman; and her grandchildren, Madison, Rhylie, Cashtin, Amelia, Miles, and Tate.

Our family would like to thank IMC Hospital emergency department and shock trauma ICU staff. We would like to express special thanks to the nursing staff, who were straight forward with information and always willing to answer questions honestly, all while being kind and keeping our emotions in mind. We appreciate the extra time they gave us and the late hours stayed, even beyond their normal responsibilities.

Funeral Services will be held at 11 am Saturday, January 4th, 2020. Visitations will be held Friday evening, January 3rd from 6-8 pm and Saturday January 4th from 9:00-10:30 am. Services and visitations will be held at Jenkins-Soffe Mortuary, 1007 West South Jordan Parkway, South Jordan, Utah. Interment immediately after funeral at Elysian Gardens, 1075 East 4580 South, Murray, Utah.
To send flowers to the family of Janet Kiddle Holman, please visit Tribute Store.