Skyline High School
Class Of 1970
In Memory
Pamela Jordan (Perkins)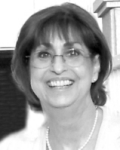 1952 ~ 2013
Pam returned to her father in heaven June 30, 2013 after heart complications. She was born July 25, 1952 in Philadelphia, Pennsylvania to George and Mary Jordan.
She was a loving mother to four sons, three daughters-in-law, and especially loved spending time with her nine grandchildren.

She graduated from Weber State with a degree in computer programming. Pam worked for Intermountain Health Care in the payroll department for 26 years and was loved and appreciated by her coworkers.

She loved to travel, especially with her family to the Utah Shakespearean Festival, an annual tradition that began with her oldest son in 1987.

She was an active member of The Church Of Jesus Christ Of Latter-day Saints, serving many people as Primary President, Relief Society President, in the Young Women's Presidency, and as Ward Historian among other callings. Pam loved serving others and was a perfect example of Christ-like service.

She is preceded in death by George Jordan (father), Gary Jordan (brother), Jeffrey Jordan (brother), and Valerie Jordan (sister).

She leaves behind Mary Jordan (mother), Steve Jordan (brother) and sons Eric (Jenni) Perkins, Nick (Angie) Perkins, Tim Perkins, Sean (Aya) Perkins and nine grandchildren.

The family has asked that in lieu of flowers, a donation be made to the Utah Shakespearean Festival in her name.

Funeral services will be held Saturday, July 6, 2013 at 11:00 a.m. at the Olympus Hills Ward, 4176 Adonis Drive, Salt Lake City, Utah. A visitation will be held Friday, July 5, 2013 from 6-8 p.m. at Larkin Sunset Lawn, 2350 East 1300 South Salt Lake City, Utah and 10-10:45 a.m. prior to services on Saturday. Interment will be at Larkin Sunset Lawn.


Published in Salt Lake Tribune from July 4 to July 5, 2013