Skyline High School
Class Of 1970
In Memory
Karen Johnson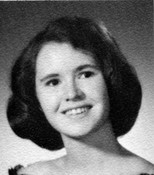 Karen Johnson
1952 - 2019 Obituary
Karen Johnson
1952-2019
Salt Lake City, UT-Karen Johnson passed away in the early hours of January 14, 2019 at the age of 66. Born in Salt Lake City on January 31, 1952, she was raised by John and Clora Mills Johnson, who lovingly welcomed her into their home well into their middle age. Karen grew up on the east bench of Salt Lake City and attended Skyline High School. She graduated from the University of Utah with a Bachelor's degree and then went on to earn a Master's Degree in Library Sciences from BYU. Karen worked for the Salt Lake City Library system for 39 years, serving patrons at the Sprague, Main, and Foothill Anderson branches. Karen's life was marked by service, to her family, her neighbors, her library patrons, and her church community. She selflessly cared for her mother as she declined in health over the last decade or so of her life, allowing her to live out her days comfortably at home. She was always finding ways to help others and alleviate their burdens anyway she could. She served as the librarian in her LDS ward for more than 40 years, giving countless hours and truly extraordinary service to her ward family.
Karen is survived by her brother Darrell (Carol) Johnson of Holladay, sister-in-law Ruth Johnson of American Fork, 1 nephew, 8 nieces, and numerous great and great-great nieces and nephews, all of whom she knew and loved. She had an especially close bond with her niece Kimberly (Kevin) VanSteeter of Lehi, their 6 children, and 3 grandchildren.
She is preceded in death by her parents, her brothers J. Howard Johnson and Clyde Johnson, niece Christy Johnson, and great-nephew David Johnson.
Funeral Services will be held on Friday, January 18th at 12:00 at the Little Cottonwood 14th Ward chapel, 1160 E Vine St, SLC, UT. A family visitation will be held at the same location, Thursday, January 17th 7:00-8:30pm and Friday starting at 10:30am.
To leave condolences for the family, please visit memorialutah.com.