Skyline High School
Class Of 1970
In Memory
Thomas McGhie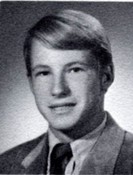 We learned, from a classmate, of Tom McGhie's passing on April 28, 2017. Thanks Holly for providing a link to his obituary.
Thomas McGhie
1951 ~ 2017
Thomas Roland McGhie passed away on Friday, April 28th of natural causes at his home in Holladay, Utah. Tom was born on December 30, 1951 to Elmo Roland McGhie and Mary Jean (Lund) Mcghie . He is preceded in death by both parents. He is survived by his wife Laurel Summerhays McGhie and sisters Vicky Cowart and Jolynn Golden (Alvin,) stepchildren Amanda Tabon (William) and Ryan Bernier, along with 5 Grandchildren.
Tom graduated from Skyline High School in 1970 and then attended the University of Utah where he first received a BS in Finance followed by a degree in Pharmacology. During college Tom was on the University of Utah Ski Team and won the NCAA Collegiate All American Award in 1971 and again in 1973. He was awarded the Alf Engen Sportsmanship Award in 1970 and the David Novelle Outstanding Skier Award in 1973. Tom was a member of the GTO Ski Team founded and coached by Jim Gaddis which later became the Park City Ski Team. He was a member of the United States Ski Association Development Team. In 1995 Tom married Laurel Summerhays, Vice President of Summerhays Music. They enjoyed many glorious years together traveling and golfing. Some of the happiest memories and most exciting adventures were with best friends Rich and Gay Crandall aboard their sailboats LuLu and Cirrus. Tom was a fantastic chef and loved hosting backyard barbecue parties. He was a talented landscaper and loved gardening. His yard is a testament to his artistry. A celebration of Tom's life will be held July 1st. Email TRMcGhie@Hotmail.com for details.