Skyline High School
Class Of 1970
In Memory
Gary Schultz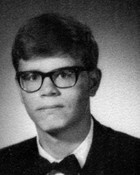 1952 ~ 2016
Gary C. Schultz, 64, avid cyclist and proud University of Utah fan, passed away peacefully on November 30, 2016 after a long struggle with dementia and lung cancer. He was born June 9, 1952 in California, to Herman Schultz Jr. and Pearl Brunstead. Gary earned his Bachelor's Degree in 1974 from the University of Utah.
He loved to read, take pictures, listen to the Rolling Stones, and was always outside searching for adventure.
Gary is survived by his daughter, Chelsea (Benjamin) Sharer; his former wife, LeAnn Royal Schultz; nieces, Tracey and Kelly Amish. He was preceded in death by his parents and sister, Carol Amish.

The family invites friends to attend a graveside service at Valley View Memorial Park, 4400 West 4100 South, West Valley City, Utah, on Wednesday, December 7, 2016 at 2:00 p.m.. Following the graveside service, a celebration of life will be held at the Cottonwood Country Club, from 3:00 - 5:00 p.m. His family thanks all of his healthcare providers for their dedication and caring during his extended illness.
Condolences may be sent to the family at www.valleyviewfuneral.com. -