Skyline High School
Class Of 1970
In Memory
Randy Stauffer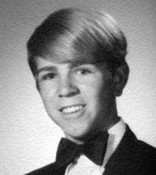 From the Salt Lake Tribune, Februay 20, 2013 Thanks to Roger Bird for the notifcation.
Donald Randel Stauffer
"Randy"
Randy Stauffer passed away peacefully on Sunday, February 17, 2013 after a short battle with cancer.
He was born to Donald and LaRue Stauffer on August 11, 1952 in Salt Lake City, Utah. He was the oldest of five siblings. He attended Skyline High School and was an Eagle Scout. He was a member of The Church of Jesus Christ of Latter-day Saints. He loved the New York Yankees and the Utah Jazz.
Randy was a very tender and compassionate person. He was soft-spoken and loved animals - especially his dog Scottie.
Randy worked as a master telephone technician. His career took him to California where he worked for a private contractor and later for the University of Utah. Along with telephone work, Randy exemplified many other talents and skills which he put to use while managing and maintaining the apartment building on "H" Street where he lived for over 20 years. Randy's greatest gift was his ability to freely serve those around him. It was common for Randy to be found shoveling snow or working in the yard of his Uncle Ray. He was a devoted son as he spent hours every week caring for his parents. His presence will be truly missed.
Randy is survived by his mom and dad, Donald and LaRue Stauffer; sisters, Becki Jefferies (Bill), Julie Overfelt (Jerry); brothers, Gene Stauffer (Beverly), Steven Stauffer, and numerous nieces and nephews. Funeral services will be held Thursday, February 21, 2013 at Wasatch Lawn Mortuary (3401 Highland Drive, Salt Lake City, Utah) at 2:00 p.m., with a viewing one hour prior to services. Following the service, he will be laid to rest at Wasatch Lawn Memorial Park. In lieu of flowers, the family is requesting that donations be made to the Huntsman Cancer Institute in Randy's honor.