Skyline High School
Class Of 1970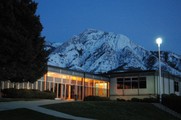 CLASS of 1970
45th Reunion
Friday - August 21, 2015
We did it!!
Posted: August 23, 2015
Top Ten Redux – How They Played Out:
We didn't lie about our age. Most of us just stopped counting.

We didn't always immediately recall names and faces. The name tags had large print. The challenge was remembering who we had talked to just five minutes before.

We really don't have anything to prove. Just by showing up and sharing life's experiences – we validated that we do still matter.

Not just reconnecting but connecting for the first time. In a class of over 950 graduates – we (I) met some new faces that we (I) truly did not know from before (or at least couldn't remember). That was awesome.

We may struggle at times with the reality and toll of aging. But in the aggregate, we still look pretty, pretty, pretty good.

Count 'em – we've done 5, 10, 20, (no 30 – sorry Seyboldt – we blew that one), 40 and now 45-year reunions. Some attended the minis 41-44 sponsored by some of our classmates at the Am Leg. #50 will be upon us before you know it. So yeah, we still got something left in the tank.

The conversations were incredible. And we could hear them. Amazing stories of our lives: journeys of joy, heartache, success, and loss. And we keep going.

H&D BBQ did provide a great meal. Could 'a used some more coleslaw, but all in all, satisfied palates.

Mark Jardine and cousin Mark Williams provided pleasant background music. No dancing injuries, just Chaus jamming his leg into a picnic table (Ouch! It will grow back).

So, Venimus ! Vidimus! Vicimus! And no regrets.
Posted: August 22, 2015
Just a short 24 hours ago, we closed the chapter of another reunion. What a treat to see so many, share life's experiences, and rejoice in renewed friendships. Our next milestone will be the half-century mark (since graduation) in the year 2020. That just sounds strange. May we all return and recruit others to join us in what promises to be a memorable occasion.
Thanks for all those who offered advice and counsel along the way and a very special thanks to Steve Crawley for his stewardship over our funds, Marsha Dott for table prep and pictures, Steve Marshall for coordinating the water, sodas and ice, Mark Jardine and cousin Mark Williams for the music, H&D BBQ for a great meal (go visit their little restaurant on 1844 E Ft Union Blvd), the many hands who helped in the clean up, and finally my partner and much better half, Liz Chappell, for her constant support, work, patience, and.... most of all, friendship and love.
Than you all for coming. Please take time to share your photos on our webpage or here on Facebook. Keep close and stay connected.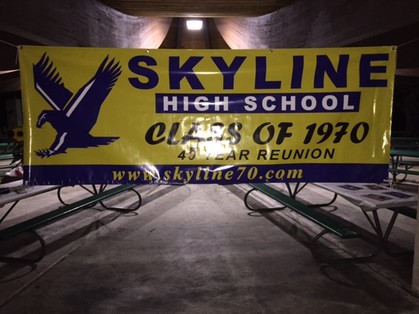 Note everyone: We are also on Facebook at the Skyline HS Class of 1970 - Utah group. Join our social network.