Skyline High School
Class Of 1970
In Memory
Lane Paswaters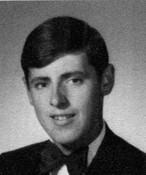 Thanks to Ray Harris for letting us know about Lane:
Lane Ryan Pas Waters, 65, passed away peacefully after a long courageous battle with a rare autoimmune disease and cancer on October 31, 2017 in Lindon, Utah. He was surrounded by his loving family who will miss him dearly but know he had a joyous reunion with his wonderful parents.
He was born to Jack Oscar Paswaters and Clarissa (Chris) Paswaters in Murray, Utah on August 27, 1952. He was a friendly, kind, and exceptional young man. He enjoyed success in sports, coming within one win of securing a trip to the Little League World Series. His real love of sports came from soccer, which continued his entire life. He played soccer at Skyline High School and went on to play college soccer at the University of Utah. He also coached the Mountain View High School soccer team to a state championship.
Lane served a mission for the Church of Jesus Christ of Latter-day Saints in Frankfurt, Germany and gained an immense love for the country and the people which never dimmed. He also served in the 151st Unit of the Utah Air National Guard and was named Airman of the Year.
On May 22, 1979 he married the love of his life, Dianne Davis. They were married and sealed for time and all eternity by Dianne's grandfather, Golden Driggs, in the Provo LDS Temple. Together they were an inseparably great team who raised six children. Lane was the perfect example to his kids of what a husband and father should be. His kindness, charity, and dry wit made everyone around him love him. He treated everyone with respect and had a sincere desire to help those with special needs. This led him to receive an education in special education. He graduated from the University of Utah and BYU. He then pursued a law degree and graduated law school at the University of Arkansas. Dianne loved to say that he had received his "three degrees of glory." He has served in many capacities in the church, such as a counselor in the bishopric, high priest group leader, gospel doctrine instructor, nursery teacher and others. Throughout all his trials, his faith in Jesus Christ never wavered.
Lane was not only a loving father but an amazing grandfather. He was lovingly referred to as "Opa" and "Grizz." His grandchildren always put a smile on his face. He is survived by his wife, Dianne; children - Matt (Kesia), Jack Jared, Brett (Christina), Kaitlyn (Preston) Harris, Kelsey (Bobby) Riddle, and McKay. Also survived by his five grandchildren – Grady, Olivia, McKenzie, Louise, and Paxton. In addition he is survived by his 3 brothers, 2 sisters and many wonderful in-laws whom he counted as his own siblings. He is preceded in death by his parents, Jack and Chris Paswaters. He was very excited to see them again.
In short, Lane is the greatest soccer-playin', Deutschland-travelin', pigsoooiiieeeee-hollerin', church-goin', attorney-workin', wife/children/grandkid-lovin' man we know and we will miss him. He was and still is a man of true valor.
Gratitude is expressed to all the doctors, nurses, Brio Home Health, Hearts for Hospice, and all others who have helped him throughout the years and have made him comfortable the last few weeks of his life. A special thanks to the Intermountain Transplant Center who took great care of him when he had a kidney transplant 4 ½ years ago.
Funeral services will be held Saturday, November 11, 2017 at 11:00 a.m. in the Lindon Utah Central Stake Center, located at 56 East 600 North, Lindon, Utah with a viewing from 9:30 – 10:45 a.m. prior to the service. Friends and family are also welcome to come to a public viewing which will be held Friday evening, November 10, 2017 from 6 - 8 pm at the Olpin Family Mortuary, 494 South 300 East, Pleasant Grove, Utah. Interment will be in the Pleasant Grove City cemetery.