Skyline High School
Class Of 1970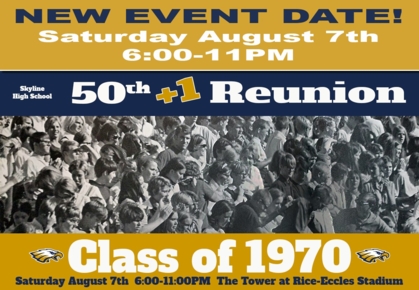 Payment Portal Now Open
There is still time to reserve your place and pay.
Click here or "Reunion Payment Portal" on the left side menu.
---
SHS Site Open House and Construction Tour (Free)
Friday - Aug 6
2:30-3:30 PM
---
Reception - Dinner - Program
(Pay in advance - ticket pick up at registration - receipt confirmation below)
Saturday August 7
6:00 - 11:00 PM
Rice Eccles Stadium Tower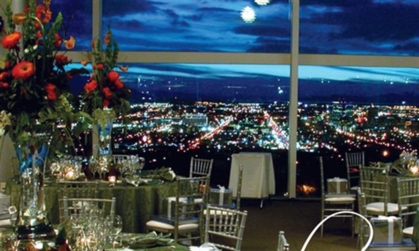 YOU ARE INVITED!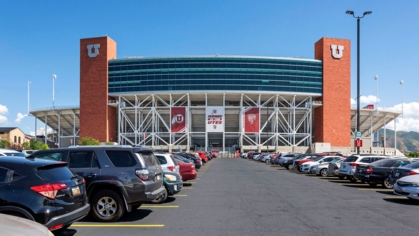 Please join us and invite others.
Add your names to the attendee list:
Early Commits - Paid
Adamson Dee Jan & Scott
Allen Kim & Seri
Allred Burgess Elaine
Anderson Jerry & Amy
Ashton Owen & Becky
Barker Randy & Linda
Baumann Glenn
Bendixon Lewis & Michaelene
Bergstrom Armstrong Chris & Darrel
Bernick Bob
Bird Roger & Sue
Briggs Savage Luanne & Scott
Brown Smith Rosemary
Bruggeman Mullen Jane & Brad
Bush Smith Jannine & Jody
Bushman John
Butterfield Bernick Shelley
Buys George
Campbell Craig & Kathy
Chanak Hauenstein Thelxi & Steve
Chappell Dean & Jacquie
Chappell Ence Liz
Chaus Bill & Sharon
Checketts Victor
Cheever Crawford Judy & Bob
Christison Earl
Clegg Rick & Anne
Dahlberg Figueroa Jana
Daniels Garth
Draper Mal & Partner
Dunoskovic Rob
Eichers Preston & Shirley
Elton White Leslie
Ence Rob
Eva Matheson Vickie
Featherstone Taylor Sue & Cal
Frewin Workman Bonnie & Dennis
Funk Steve & Sheri
Glaus Brad & Sheri
Gold Lloyd Barbara & Gary
Grubaugh Kennedy-Croft Sharmain & Mike
Gunn Stan
Hanson Hilton Barbara
Hardwick Hilary
Harris Ray & Ingrid
Hart Tom & Cindi
Heath Geoff & Karen
Hemming Cuff Christi & Adrian
Himstreet Douglas & Celestia
Holmberg William & Katherine
Hughes Bob
Jackson David
Jensen Forrest Conne & Jennifer
Jensen Larsen Julie
Judd Daniel & Carlie
Kaelin Steve
Kane Michael & Barbara
Kastler Burt Kerry
Kiddle Short Vicki
Knowlton McLellan Dagny
Kuhn Henderson Julie
Larsen Brian
Lingwall Mike & Joyce
Marshall Steve
Maxfield Brian & Jan
McCulloch Nelson Anne
McMurray Lynn & Charlene
Morton Joseph
Nelson David
Newman Jay & Polly
Nielson Rand & Anne Marie
Paulsen Larson Margie
Pearson Alan
Place Star
Plowgian Holt Joan
Paoletti-Schelp Michele
Pope Ottley Jolene & Kent
Price Balatti Janet
Rappleye Watson Nola
Richins Severinsen Julie
Roestenburg Carl & Karen
Rogers Gardner Marilynn & Paul
Ross Darwin
Schanz Babitz Jill
Severinsen Laird
Short Mel
Showalter Millard Christi Ann & Bruce
Slaydon Wilford Becky
Smith Stuart & Martine
Snow Mathews Janice
Souvall Bill
Stillman Sue
Streeter Robin
Suite Steve & Annette
Summers Kerry & Carla
Swenson Hatch JoAnn
Taylor Johnson Lenora & Craig
Taylor Merlin & Joan
Tischner Morton Holly
Vickery David
Vigos Carolyn & Suzanne Richins
Waite Terry
Wagner Nelson Jeanne
Wallin Richard & Katherine
Watson David
Wiggins Ripplinger Linda & Randy
Young Lynn & Sally
Others commits planning to attend
Delvie (Jones), Cheryl
Horton (Larsen), Shauna
Johnson (Sachse), Cheryl
Lether (Wavra), Kathleen
Lloyd (Cunningham), Leslie
Whipperman (Sheppard), Linda